ZEN ISLAND
A chill puzzle, exploration and organisation game for the Basic8 Fantasy Computer.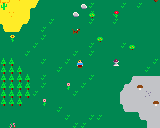 Features
A pixelated island and underworld to explore.
Figure out how to create over 80 items, plants and animals!
Customise your island however you like...
Then save it for later!
About
Zen Island is a concept game I wrote on the Fantasy Computer Basic8. It is an open, walking-simulator-like game with a light puzzle element. Players can attempt to figure out the rules of the world, to create one of every possible item. A small reward awaits anyone who can achieve this goal. Players can take as long as they like experimenting, exploring and finding the secrets of the island.
Play the game!
Play Online (Note: Possible Audio Issues)
The entire game is contained in the image to the left! If you own Basic8, you can import it.
Contact
If you enjoyed this game, I'd love to hear from you. Send me a tweet @JiFish.
Copyright Joseph Fowler, all rights reserved.